News
Biden announces new Ukraine aid package, delivery of Abrams tanks
supplemented
US president Joe Biden has approved a new military aid package for Ukraine worth USD 325 million, including a MIM-23 Hawk medium-range air defence missile system, and said that the first Abrams battle tanks will arrive in Ukraine "next week".
The announcements came as Ukrainian leader Volodymyr Zelenskyy met Mr Biden at the White House to discuss America's support for Kyiv in its fight against Russia's full-scale invasion.
According to US secretary of state Anthony Blinken, the new aid package includes additional air defence missiles, artillery and cluster munitions, and anti-tank weapons that "will help sustain Ukraine's progress and build further momentum".
Mr Biden said that the new aid package is to "save the future of freedom", which America will "never give up".
He assured that the United States will continue to support Ukraine, which is fighting against Russian invaders, in the future.
Earlier this year, the US promised to deliver 31 Abrams M1A2 tanks to Ukraine.
Following the announcement of the delivery of the Abrams tanks, the US president added that the allies are also "focused on enhancing Ukraine's air defence capabilities to protect critical infrastructure in winter" and announced the delivery of the second MIM-23 Hawk battery "with steady monthly deliveries of additional these and other systems through the winter".
After a brief briefing, Messrs Biden and Zelenskyy shook hands.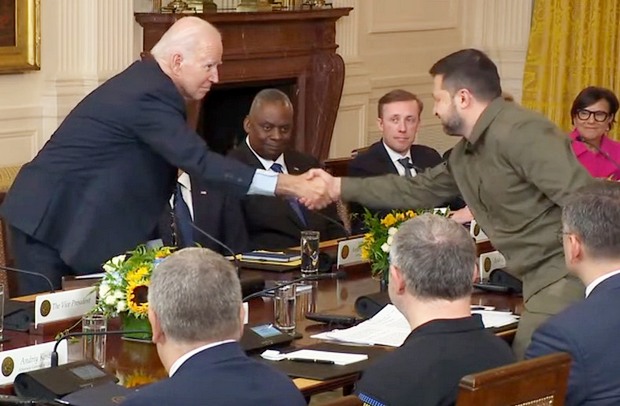 The Ukrainian president thanked his counterpart and the Americans for the new aid package, saying that it was "exactly what our soldiers need now".
When a reporter asked whether Mr Zelenskyy had received any guarantees from US Congress to continue funding the country's defence, Mr Biden instead said, "I am counting on the common sense of the US Congress. There is no alternative."
The Pentagon wrote in detail about the new package:
AIM-9M missiles for air defense;
Additional ammunition for High Mobility Artillery Rocket Systems (HIMARS);
Avenger air defense systems;
.50 caliber machine guns to counter Unmanned Aerial Systems;
155mm artillery rounds, including DPICM;
105mm artillery rounds;
Tube-Launched, Optically-Tracked, Wire-Guided (TOW) missiles;
Javelin and AT-4 anti-armor systems;
Over 3 million rounds of small arms ammunition;
59 light tactical vehicles;
Demolitions munitions for obstacle clearing; and
Spare parts, maintenance, and other field equipment.
The Pentagon's statement does not mention the delivery of the MIM-23 Hawk air defence system.
Earlier, Zelenskyy met with leaders of the US Congress.