'Time to' send Ukraine F-16s, Kuleba urges
Ukrainian Minister for Foreign Affairs Dmytro Kuleba. Photo via EPA
Providing Ukraine with advanced capabilities has never "provoked Russia's escalation", and F-16 fighter jets will not be an exception, Ukraine's foreign minister said on Thursday.
In a Twitter post, Dmytro Kuleba provided a list of types of weapons "that, we were told, would 'provoke Russia to escalate' if supplied to Ukraine but never did", including artillery, multiple launch rocket systems, air defence, tanks, and long-range missiles.
"F-16s will not either. Giving Ukraine F-16s will deter Russia rather than 'provoke' it. Time to take this step," Mr Kuleba stressed.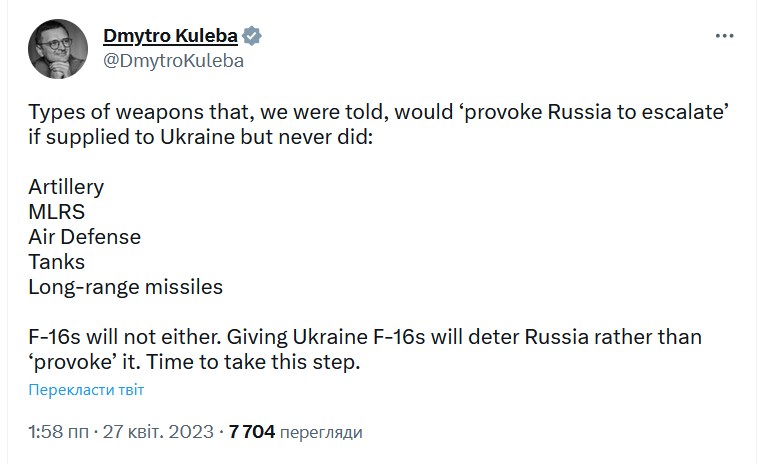 Ukraine has long been asking for modern fighter jets, claiming that its current Soviet-era aircraft are not capable of countering offensives of Russian forces and are too old to be combat-effective.
While such deliberations are known to be taking place, no country has so far committed to delivering Ukraine modern aircraft.
Chief of Aviation of the Ukrainian Air Force Command Brigadier General Serhii Holubtsov believes that the training programme for Ukrainian pilots on F-16s can be significantly reduced compared to standard timing.
If you notice a spelling error, select it with the mouse and press Ctrl+Enter.
Latest news