Free man
Despite arrest in Norway, letter suggests Ukraine did not move to extradite Wagner fighter
Former Wagner mercenary Andrei Medvedev, who fled to Norway and asked for asylum, can leave this country freely if he wants as there are still no requests for extradition, according to a response to LIGA.net's repeated request to the National Criminal Investigation Service Kripos, the Norwegian police agency. Last request was four months ago.
"Medvedev is still regarded as a witness, and we are interviewing him about information regarding the time he says he served in the Wagner Group," Norwegian police senior adviser Axel Wilhelm Due said.
Law enforcement officers will not share information about what the terrorist told them and how they perceive this information.
The official noted that the former mercenary can leave Norway if he wishes. He noted that he was "not aware of any request for extradition" of Medvedev.
"From our side, Medvedev free to leave (Norway. – ed.) if he wishes to. I am not aware of any extradition request," the answer reads.
This is a repeated request, LIGA.net contacted Kripos in May and received an answer that the department is not aware of requests for Medvedev's extradition, and he can leave Norway if he wants.
On April 25, 2023, LIGA.net sent a request to the Prosecutor General's Office with the following content: "Please provide information on whether Ukraine demands the extradition from Norway of former Wagner fighter Andrey Medvedev? If not, why? If so, what is being done for this, at what stage is the process now?" As of September 29, the Prosecutor General's Office has not responded to the request.
On September 22, the Wagner veteran unsuccessfully tried to illegally cross the Norwegian border and return to Russia, but he was detained. A few hours before that, Medvedev told a local journalist that he "could soon be extradited to Ukraine, and it would be safer for him in Russia."
According to the Kripos response, there are still no extradition requests and he can leave Norway legally. Asked why in this case Medvedev tried to illegally cross the border, the official advised to contact the local police in the Finnmark district.
PVK "Wagner" is recognized as a terrorist organization in Ukraine. Medvedev claimed that he fought against Ukraine for four months and was the commander of a platoon of the Wagner assault unit.
Former prisoner Yevgeny Nuzhin was also under his command. He was recruited by the PMC and surrendered as a prisoner in Ukraine, and after he got back to the Russian Federation, he was allegedly "executed" by a blow to the head with a sledgehammer, Russian media reported.
Medvedev himself said he was seeking asylum in Norway because he "feared for his life" after witnessing the murders and abuse of Russian prisoners recruited into the Wagner Group for the war.
Here is the Norwegian service's full response to the repeated request: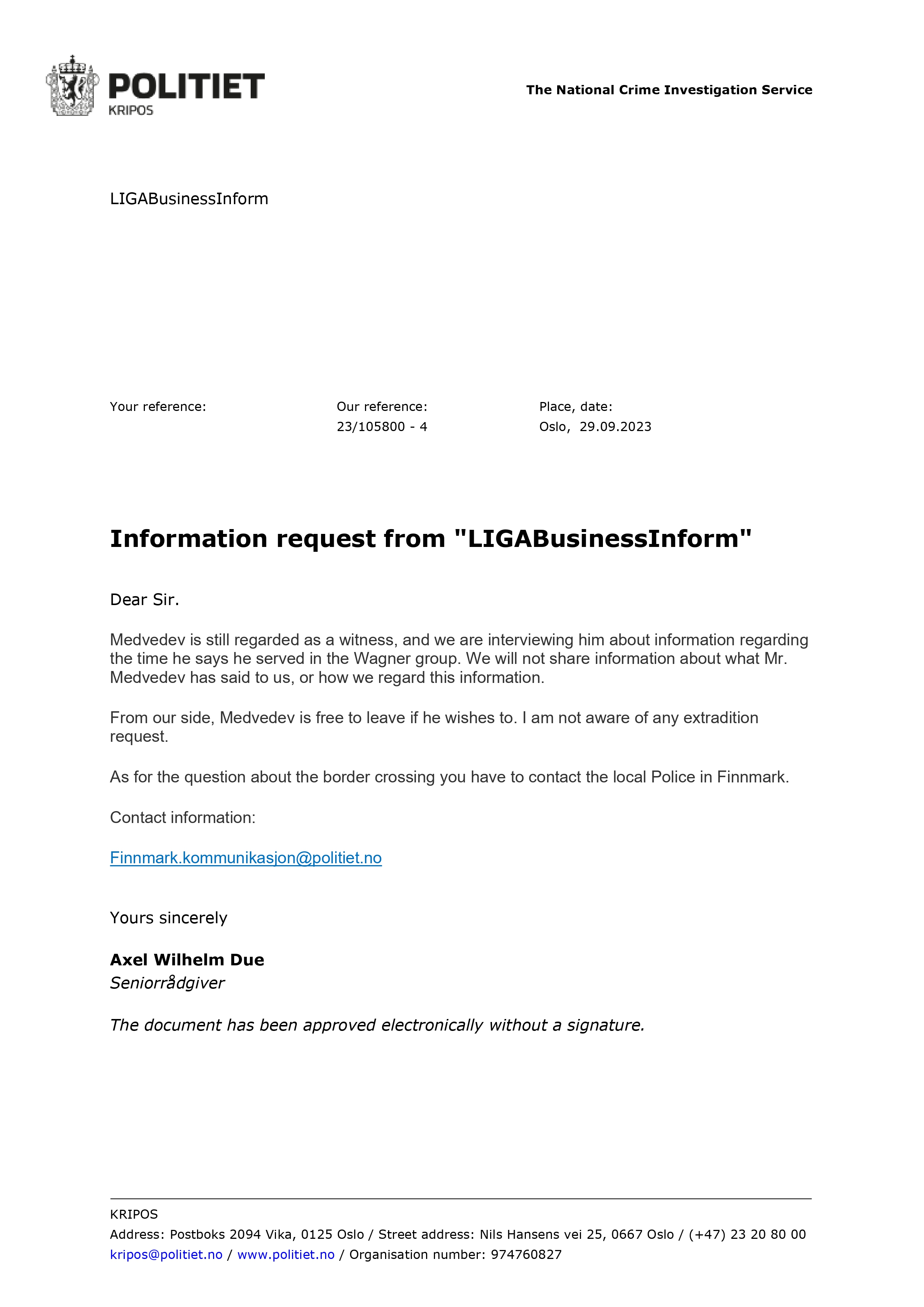 On January 23, 2023, Medvedev was detained in Norway after he illegally crossed the border and asked for political asylum.
On May 18, the former militant announced that he wanted to return to Russia.
On July 26, former Russian soldier Pavel Filatyev, who fought against Ukraine, announced that he had received asylum in France. The French Office for the Protection of Refugees and Stateless Persons told LIGA.net that it would not disclose information about the Russian, even if he himself chose to disclose it.
On July 18, LIGA.net sent an e-mail to the Office of the Prosecutor General of Ukraine to obtain information on whether requests for Filatyev's extradition have been sent by the Ukrainian side. As of September 29, 2023, there is no response.
On September 27, the spokesman of the Eastern Grouping of Forces announced that former fighters of the Wagner Group, who returned to the war against Ukraine, now work for the Ministry of Defense of the Russian Federation or entities subordinate to it.